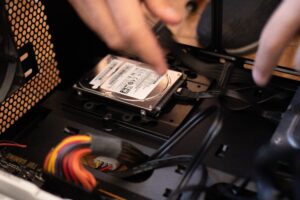 Get your computer running with our top-notch repair services!
If you're searching for affordable PC and Mac repair services near me in Bozeman, look no further than Ram Computer Services.
When you decide to close a deal with us, our professionals will be by your side throughout the entire process. Our experts understand that your technology needs can vary from complete rebuild to essential computer maintenance. That's why we will go above and beyond your expectations with our comprehensive suite of services!
How Much Does a Computer Repair Cost in Bozeman?
If your computer is not running or experiencing a technical issue, there are plenty of companies that you can call to help you out. You can work with a reliable local computer repair company, like Ram Computers, to get your computer back. It is worth mentioning that different computer repair businesses charge different prices.
Our competent team bills all the computer repairs at a flat diagnostic fee of $49. But if we have to disassemble your computer, it will cost an additional $40.
Factors That Affect the Cost of Computer Repair
 The ultimate cost of computer repair may vary depending on several factors, such as:
The type of computer you have can have a significant impact on how much you're charged for your computer repair in Bozeman. A PC's average computer repair rates are often lower than Mac's repair rates. In addition, the repair rates of a desktop computer might be higher than a laptop repair cost.
There are hundreds of technical problems that you can have with your computer. The nature and severity of the problem can significantly affect the average computer repair cost in Bozeman, Montana. For example, your computer might have major motherboard issues or a minor problem with the mouse or keyboard.
The exact nature and severity of your computer problem will play a pivotal role in the final computer repair cost. For instance, replacing your computer's battery will cost less than replacing the motherboard of a high-end PC or laptop.
       

The complexity of the Problem
You might experience some computer repairs that take next to no time to complete. For example, replacing a damaged battery does not take much time, which is why it's one of the cheaper computer repairs.
We guarantee to fix your computer issues as quickly as possible. On average, our experts take two business days to fix your computer after you bring it in. But if we need to have your computer apart or order any particular parts, we might take a week to return your computer.
       

Number of Files and Programs
If you want data transfer or recovery services from your service provider, they must consider the number of files and programs. Having many files and programs on your computer will make it harder to scan and maintain them. This will ultimately increase the final computer maintenance price.
       

Size of Computer Hard Drive
The size of your computer hard drive can also contribute to the total computer maintenance cost. The larger the hard drive your computer has, the longer it will take to maintain, and of course, the higher price you will have to pay.
Whether you need a one-time repair service or ongoing maintenance support in Bozeman, Montana, let our experts show why Ram Computer Services is the best option.
Who Has the Best Computer Repair Services in Bozeman?
You will find numerous providers in Bozeman that claim to deliver world-class computer repair services, but you need one that can understand your needs well. Ram Computer Services has been providing high-quality computer repair services since 1987. With our experienced and knowledgeable professionals, we are well-positioned to provide exceptional quality services with immediate response times.
We offer full support for PCs, laptops, desktops, and Macs. You can rely on our services for upgrades and repairs to replace components. From software installation and data recovery services to troubleshooting, we are fully equipped with the right tools and expertise to tackle any type of computer problem that you may encounter.
Services We Offer
Ram Computer Services is famous for providing various computer maintenance services. Computer repair services that we offer in Bozeman include the following:
       

Keyboard replacement

       

Touchpad replacement

       

Water damage

       

Computer setup

       

Virus cleaning

       

Battery replacement

       

Screen replacement

       

Data transfer/recovery

       

Apple Repair

       

Server setup

       

Custom computers

       

Diagnostics

       

Tech support
How Much Does a MacBook Repair Cost?
The MacBook repair cost may vary depending on several factors, such as:
       

Nature of the problem

       

The complexity of the issue

       

Time required to get your MacBook fixed
Different computer repair service providers tend to quote different rates for MacBook repair. Ram Computers bills all the MacBook repairs at a flat diagnostic fee of $49. But if we have to disassemble your computer, it will cost an additional $40.
At affordable rates, our MacBook repair experts will get your computer back and running smoothly without the hassle. Whether you need a general MacBook checkup, battery replacement, or screen replacement, we are here to repair your MacBooks using the highest-quality parts subject to the same standards as Apple.
Where Can I Get Help for a MacBook Repair?
When finding a computer repair service provider to repair your MacBook, always rely on experienced and knowledgeable technicians. We have qualified professionals to facilitate you with convenient, fast, and reliable MacBook repair services.
Where Can I Go For Windows Computer Repair in Bozeman?
Windows computer repair is a complex and time-consuming task. That's why you need to get help only from certified and experienced technicians to get your systems running back smoothly. Ram Computers have Microsoft Windows-certified computer repair technicians to repair any computer-related issues immediately.
You don't need to take your computers across the town to a shop and wait several weeks with our professional-class windows computer repair Bozeman. We are local, certified, and trusted professionals with all the certifications, tools, and software required to tackle computer-related issues.
What are the Things to Consider when Doing a Local Computer Repair?
When visiting a local computer repair shop, it is vital to consider the following things:
       

Is the PC repair shop qualified to fix your computer problems?

       

Does your local provider offer various services to handle your all-computer-related issues?

       

Does your local provider have a proven track record?
With our knowledge and experience in computer services for Mac and PC, you can find the right technicians to take care of the issues your device may encounter.
Where Can I Find the Best Computer Repair Technician in Bozeman?
When repairing your laptop or computer, choosing a computer repair technician can make or break the deal. If the repairing team does not handle your system efficiently, it can turn minor problems into larger and irreparable damages.
If you're hunting for the best computer repair near me in Bozeman, Livingston, Belgrade, Boulder, or Gateway, you can't find a better deal than Ram Computer Services. We can be your trusted computer repair partners due to the following reasons:
       

We offer quick and efficient computer diagnosis services. If we don't have a computer diagnostic within 48 hours, you don't have to pay for it.

       

We have earned a stronger brand reputation for handling our customers perfectly.

       

We have been in the tech industry for over 30 years, delivering premium quality computer repair services in Bozeman and surrounding areas.

       

No matter what type of PC you have, our experts can fix their software and hardware problems.
How much does it cost to Get Someone to Fix Your PC in Bozeman?
Different service providers charge differently for Bozeman computer repair services. But if you decide to work with Ram Computer Services, you can get your PC fixed at affordable rates. We bill all the computer repairs at a flat diagnostic fee of $49. But if we have to disassemble your computer, it will cost an additional $40.
The final cost of Bozeman computer repairs may depend on numerous factors, such as the type and model of your PC, the complexity of the problem, and the required time to get your PC fixed.
Where Can I Get Help for a Computer Repair Near Me?
If you're hunting for a reliable computer repair near me in Bozeman, look at Ram Computer Services. From battery and screen replacement to data recovery, we offer various computer repair services to cater to your needs.
Conclusion
The final cost of computer repair in Bozeman varies depending on the nature of the problem. Ram Computer Services is aimed to help our customers in everything from data recovery and troubleshooting to keyboard replacement. You can rely on our experts, from Bozeman Mac repair and PC issues to complex networking and security problems.
Meta Description
How much does a PC or Mac repair cost in Bozeman? The experts of Ram Computer Services tend to deliver quality computer repair services at competitive rates.