Looking for reliable computer repair Bozeman, Montana? Our lightning-fast team of technicians from RAM Computers is here to handle any office computer emergency. Trust us to repair your network and protect your device from malware damage.
No need to worry about long wait times for PC repair either – we pride ourselves on our fast turnaround time, getting your computer up and running in no time. Our office has skilled technicians ready to handle any job.
Conveniently located throughout Bozeman, Montana, our computer repair shops are easily accessible whenever a technical glitch strikes. Don't let it slow you down; trust our Montana technicians to fix it swiftly and efficiently. So why waste another minute? Get your computer repaired today and experience top-notch service at our Montana office that's quick, reliable, and right around the corner.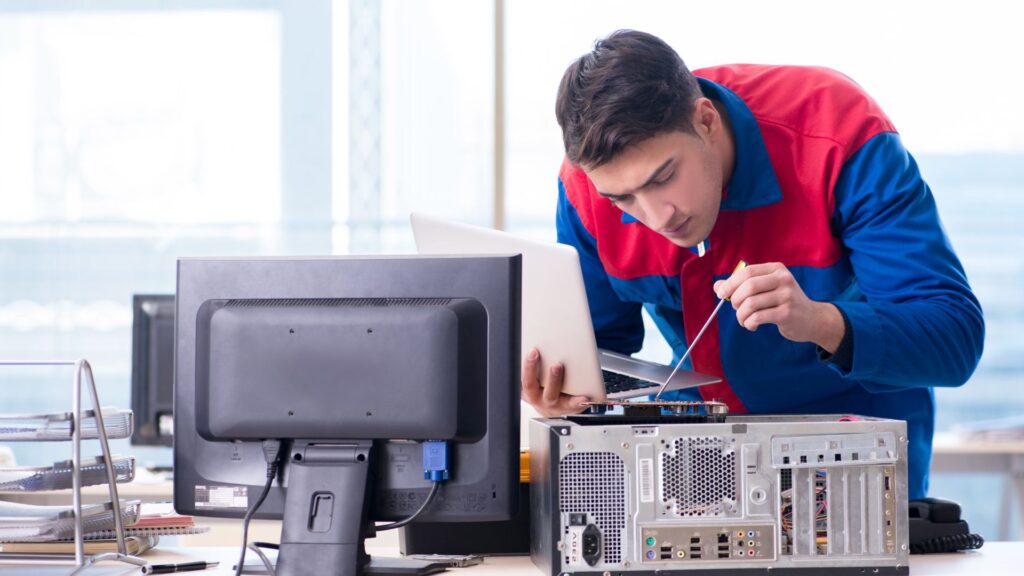 Understanding the Importance of Local Computer Repair Services in Bozeman
Local computer repair services in Bozeman, Montana offer personalized support tailored to your business needs. They understand that every computer issue is unique, and they are dedicated Montana technicians providing efficient solutions for hardware, software, and network connectivity issues.
By choosing local computer repair services in Bozeman, Montana, you not only get your computer fixed but also support the growth of local businesses. It's an opportunity to contribute to the community and help small enterprises thrive. When you opt for these services, you're investing in the local economy while receiving top-notch assistance from a Montana technician for your data troubles.
One major advantage of relying on local professionals for pc repair is quick and convenient access to assistance within the community. Instead of waiting for days or weeks for a remote technician to resolve your data issues, you can simply reach out to a nearby service provider who can promptly diagnose and fix your computer problems. This saves valuable time and ensures minimal disruption to your work or personal tasks, especially when it comes to cpr and files.
Local computer repair services often offer additional benefits such as data recovery, file restoration, and MT troubleshooting. Whether you're in Florida or any other location, these services can help you retrieve lost files and fix technical issues with your computer..
Comparing Reviews: Choosing the Top-Rated Computer Repair Shop in Bozeman
Looking for the best-rated computer repair shop in Bozeman? Don't worry, we've got you covered! Here's how you can compare reviews and make an informed decision:
Read customer reviews: Start by diving into the experiences of previous customers. Their feedback is invaluable in determining the quality of service provided by different computer repair shops in Bozeman.

Compare ratings and feedback: Take note of the ratings given by customers and delve into their comments. Look for patterns and common themes that emerge from multiple reviews. This will give you a better understanding of each shop's strengths and weaknesses.

Consider reputation: Reputation is key. Pay attention to positive reviews that highlight exceptional service, quick turnaround times, and friendly staff. A reputable shop will have satisfied clients singing its praises.
By following these steps, you can confidently choose a top-rated computer repair shop in Bozeman that meets your needs. Remember, customer reviews are your window into the experiences of others, so take advantage of this valuable resource!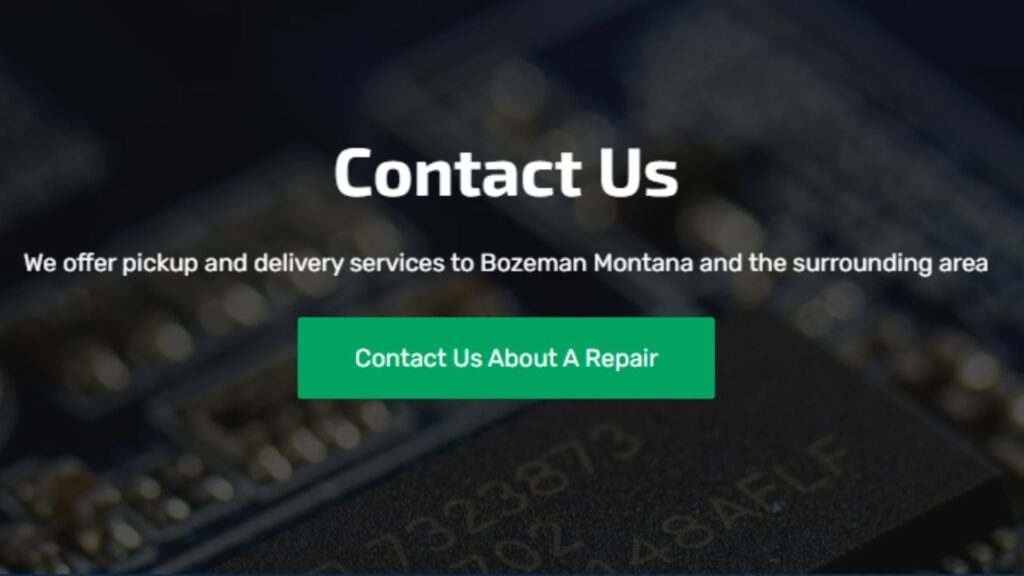 Quick Turnaround vs. Comprehensive Solutions: Selecting the Right Bozeman Computer Repair
Are you facing computer issues in Bozeman? Choosing the right computer repair service can be a crucial decision. Consider these key points when making your selection:
Immediate Fixes or Comprehensive Solutions?
First and foremost, evaluate your needs. Do you require quick fixes for immediate problems or a more comprehensive solution to address underlying issues? This will help you determine which approach aligns better with your specific requirements.
Same-Day Service or Thorough Diagnostics?
Different repair shops offer varying services. Some prioritize same-day service, aiming to swiftly resolve your computer problems. On the other hand, certain establishments focus on thorough diagnostics and repairs to ensure all issues are properly addressed.
Aligning with Your Specific Needs
When selecting a Bozeman computer repair service, it's important to choose one that aligns with your specific needs. Ask yourself questions like:
Do I need immediate fixes due to time constraints?

Am I looking for a long-term solution that addresses all underlying issues?

How important is it for me to have my computer repaired quickly?
By considering these factors, you'll be able to make an informed decision that suits your requirements.
Affordable Rates and Quality Service: Navigating Computer Repair Options in Bozeman
Finding reliable computer repair services in Bozeman shouldn't break the bank. It's possible to get affordable rates without compromising on quality. Here are some tips to help you navigate through the options and find the perfect balance:
Transparent Pricing Structures
Look for computer repair services in Bozeman that offer transparent pricing structures. This ensures that you receive fair value for your money. Avoid hidden fees or surprise charges by choosing a provider who clearly outlines their rates upfront.
Balancing Affordability and Quality
When seeking computer repairs in Bozeman, it's important to strike a balance between affordability and high-quality service. Consider the following options:
Compare prices: Take the time to research different providers and compare their rates.

Read reviews: Look for customer feedback online to gauge the quality of service offered by different repair shops.

Seek recommendations: Ask friends, family, or colleagues for recommendations based on their experiences with computer repair services in Bozeman.
By exploring these avenues, you can find a reputable provider that offers both affordability and quality.
Trustworthy Repair Services
While affordability is crucial, it's equally important to choose a trustworthy computer repair service in Bozeman. Consider factors such as:
Experience: Opt for providers with extensive experience in handling various computer issues.

Certifications: Look for certifications or qualifications that demonstrate the expertise of technicians.

Guarantees: Check if the repair shop offers any guarantees or warranties on their work.
These factors contribute to peace of mind knowing that your computer is in capable hands.
Navigating through the world of computer repair services in Bozeman requires careful consideration of both affordability and quality. By understanding pricing structures, comparing options, and seeking trustworthy providers, you can ensure your computer receives top-notch repairs without breaking your budget.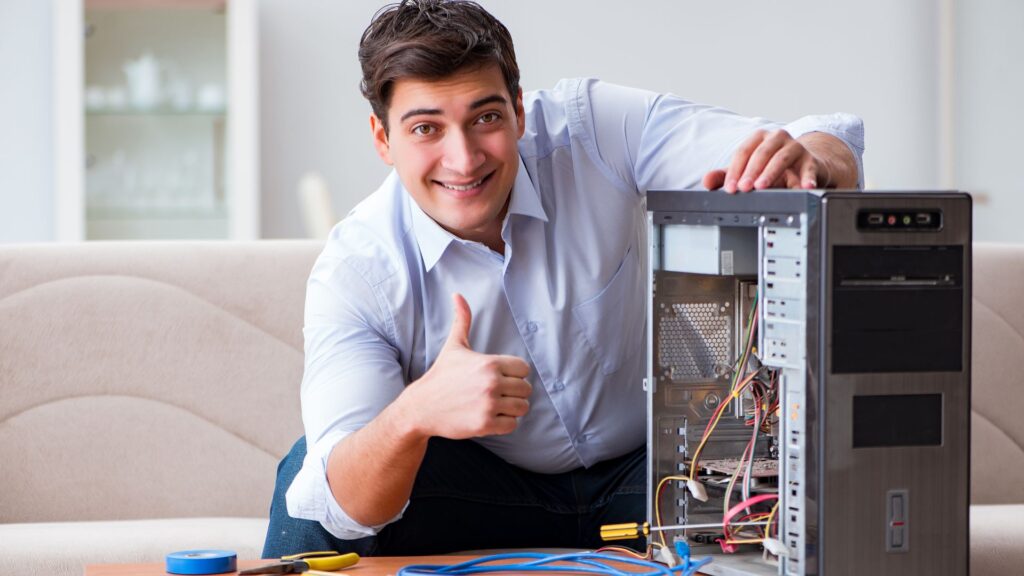 Specialized Expertise: Finding the Ideal Computer Repair for Your Tech Issue in Bozeman
It's crucial to find technicians with the specialized expertise that matches your specific tech issue. Here are some key points to consider when searching for the ideal computer repair service:
Identify specialized expertise offered by different computer repair services in Bozeman:

Look for shops that specialize in hardware repairs, software troubleshooting, or both.

Find out if they have experience with common computer brands like Dell, HP, Lenovo, or Apple.

Look for technicians experienced with specific brands or types of computers relevant to your issue:

If you're dealing with a laptop problem, find a repair shop that has expertise in laptop repairs.

For issues related to particular hardware components like motherboards or graphics cards, seek out specialists who can handle those repairs.

Find an ideal match between your tech problem and the expertise provided by local repair shops:

Consider reading customer reviews and testimonials to gauge their competence and customer satisfaction.

Look for certifications or partnerships with trusted organizations like Asurion Tech Repair.
By considering these talking points when seeking computer repair services in Bozeman, you can increase the likelihood of finding experts who will efficiently address your tech issues. Whether it's a PC repair or assistance with a specific brand of computer or hardware component, specialized expertise is essential for resolving problems effectively.
Convenience Matters: Locating Nearby Computer Repair Services in Bozeman
Save time and effort by choosing computer repair services conveniently located in Bozeman. When your computer breaks down, the last thing you want is to spend hours searching for a repair shop that's miles away. By opting for a local service, you can get your device fixed quickly and efficiently.
Consider proximity to your home or workplace for easy drop-off and pick-up of your device. Imagine having to drive across town just to drop off your laptop for repairs. It not only wastes precious time but also adds unnecessary hassle to an already frustrating situation. With nearby computer repair services in Bozeman, you can conveniently drop off your device during lunch breaks or on your way home from work.
Find nearby repair shops that offer on-site repairs or pickup/delivery options for added convenience. Some computer repair services go the extra mile by offering on-site repairs, meaning they will come directly to your location and fix your device there.
This option is especially convenient if you have a busy schedule or can't afford to be without your computer for an extended period. Alternatively, look for shops that provide pickup and delivery services, saving you the trouble of making multiple trips.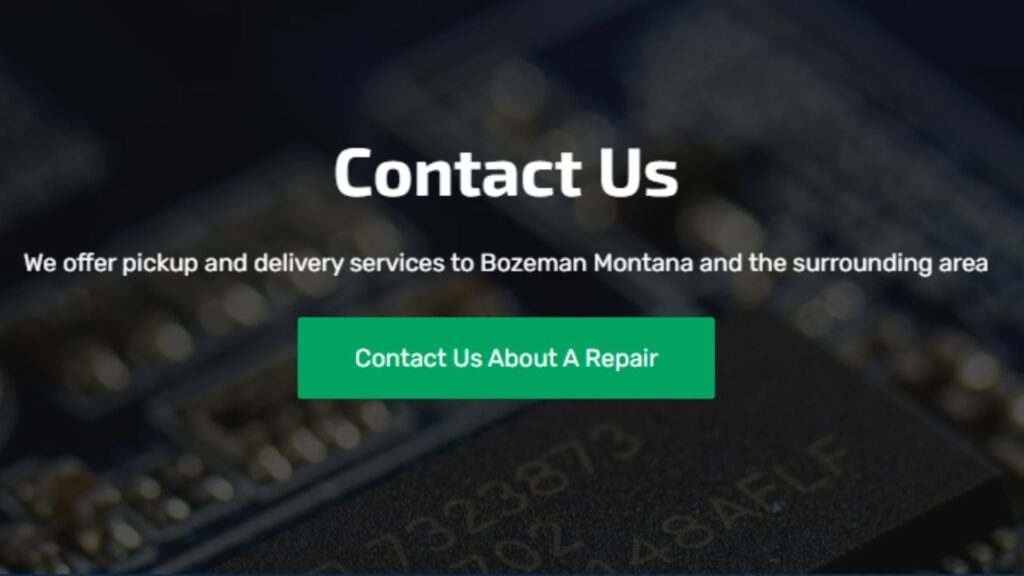 Exploring Service Guarantees: Ensuring Satisfaction with Your Bozeman Computer Repair
It's important to find a provider that stands behind their work and offers service guarantees. These guarantees not only provide peace of mind but also ensure customer satisfaction. Here are some key points to consider when choosing a repair shop:
Look for computer repair services in Bozeman that provide service guarantees for their work. This means that if any issues arise after the repair is completed, the shop will take responsibility and fix them at no additional cost.

Ensure customer satisfaction through warranties or follow-up support after the repair is completed. A reputable repair shop will offer warranties on parts and labor, giving you assurance that they are confident in their workmanship.

Choose a shop that stands behind their work and offers peace of mind with service guarantees. This shows that the provider is committed to delivering quality repairs and ensuring customer satisfaction.
By selecting a computer repair service in Bozeman that offers service guarantees, you can have confidence in their expertise and trust that they will resolve any issues promptly and efficiently.
Transparent Pricing and No Hidden Costs: What to Look for in Bozeman Computer Repair
It's important to choose a service that offers transparent pricing. By doing so, you can avoid any unexpected expenses that may catch you off guard. Here are some key things to consider when looking for computer repair services in Bozeman:
Ask about any potential hidden costs upfront
To ensure you have a clear understanding of the final bill, don't hesitate to ask about any potential hidden costs upfront. It's always better to be aware of any additional charges before proceeding with the repairs.
Look for shops that provide detailed breakdowns of charges
A reputable computer repair shop will provide you with a detailed breakdown of all the charges involved. This way, you'll know exactly what you're paying for and won't be left guessing or confused about the fees.
Here are some other factors worth considering:
Check if there is an initial diagnostic fee and whether it will be deducted from the total cost if you proceed with the repairs.

Inquire about hourly rates or flat fees for different types of repairs.

Find out if there are any additional charges for parts or software installations.
By choosing a computer repair service in Bozeman that offers transparent pricing and provides clear information on all costs involved, you can have peace of mind knowing what to expect when it comes time to pay your bill.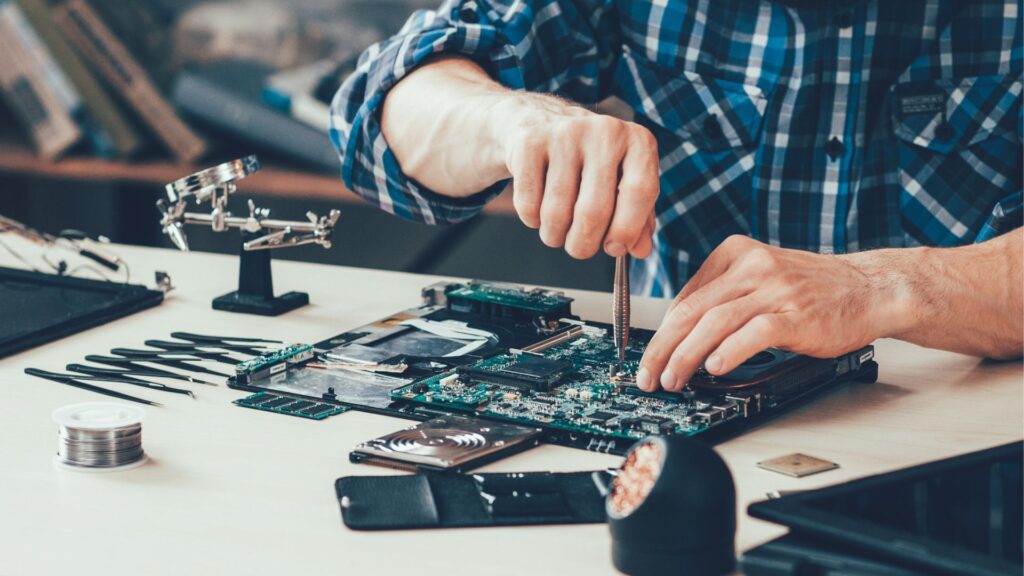 Conclusion
There are several key factors to consider. Understanding the importance of local services allows you to support your community while receiving timely assistance for your tech issues. By comparing reviews, you can identify the top-rated computer repair shop in Bozeman, ensuring that you receive high-quality service.
Deciding between quick turnaround and comprehensive solutions depends on the urgency and complexity of your problem. It's essential to select a Bozeman computer repair provider that offers both affordability and quality service, ensuring that you receive value for your money.
Specialized expertise is crucial in finding the ideal computer repair for your specific issue. Look for technicians who have experience with your particular brand or model to ensure efficient and effective repairs. Convenience also matters, so locating nearby computer repair services can save you time and effort.